✔

We work with the latest methods

✔

The best PMU machine and safe pigments EU approved

✔

Share with friends discount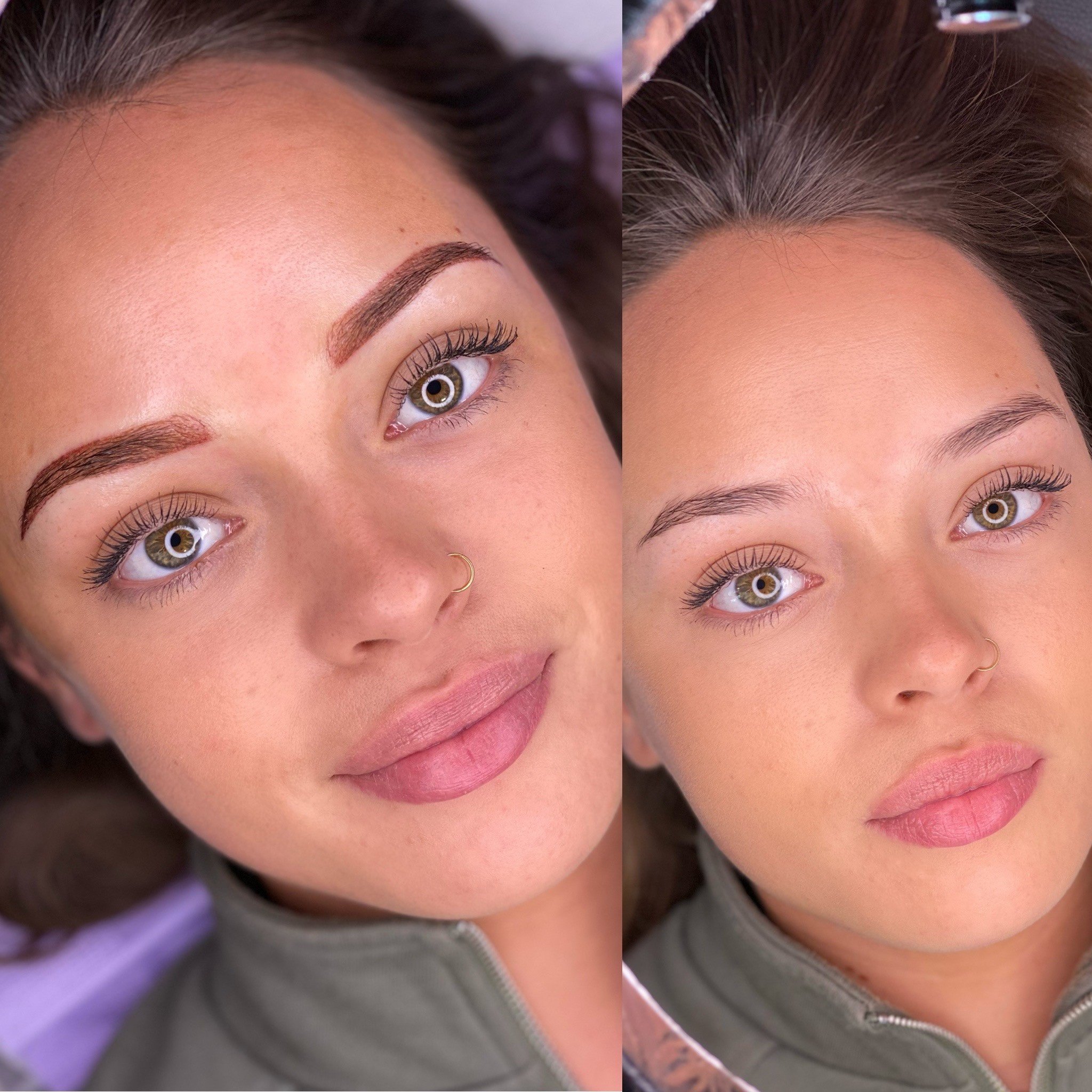 Wake up with make up! Drawing your eyebrows everyday will be in the past with Ombré Powder Brows!
Ombré Powder Brows
Using a PMU machine, a thin needle with pigment will be applied underneath the skin making small dots. This will fill in your natural eyebrows looking soft and powdery when healed. A special browmapping technique is used to draw out the most beautiful eyebrows suiting your face best. We will take your natural eyebrows and hair color into consideration. The Ombré Powder Brow technique means that your eyebrows will be lighter at the beginning of the brow and will overflow to a darker tail of the eyebrow. This ensures the pigmentation will look very natural.

Advantages of this technique
√ Suitable for every skin type (oily, dry, mature skin and large pores)
√ No trauma to the skin
√ Fast healing
√ Bald spots and scars are filled in
√ Minimal swelling and redness
√ No discoloration of the pigment

How long will the results last
Because the pigment is placed into the dermis of the skin, the result is semi-permanent and will gradually fade. It will last for about 1 to 1.5 years. To maintain the perfect eyebrows, it is recommended to have a touch up treatment every year.

Duration of the treatment
The treatment takes an average of 2,5 to 3 hours. This always includes a consultation.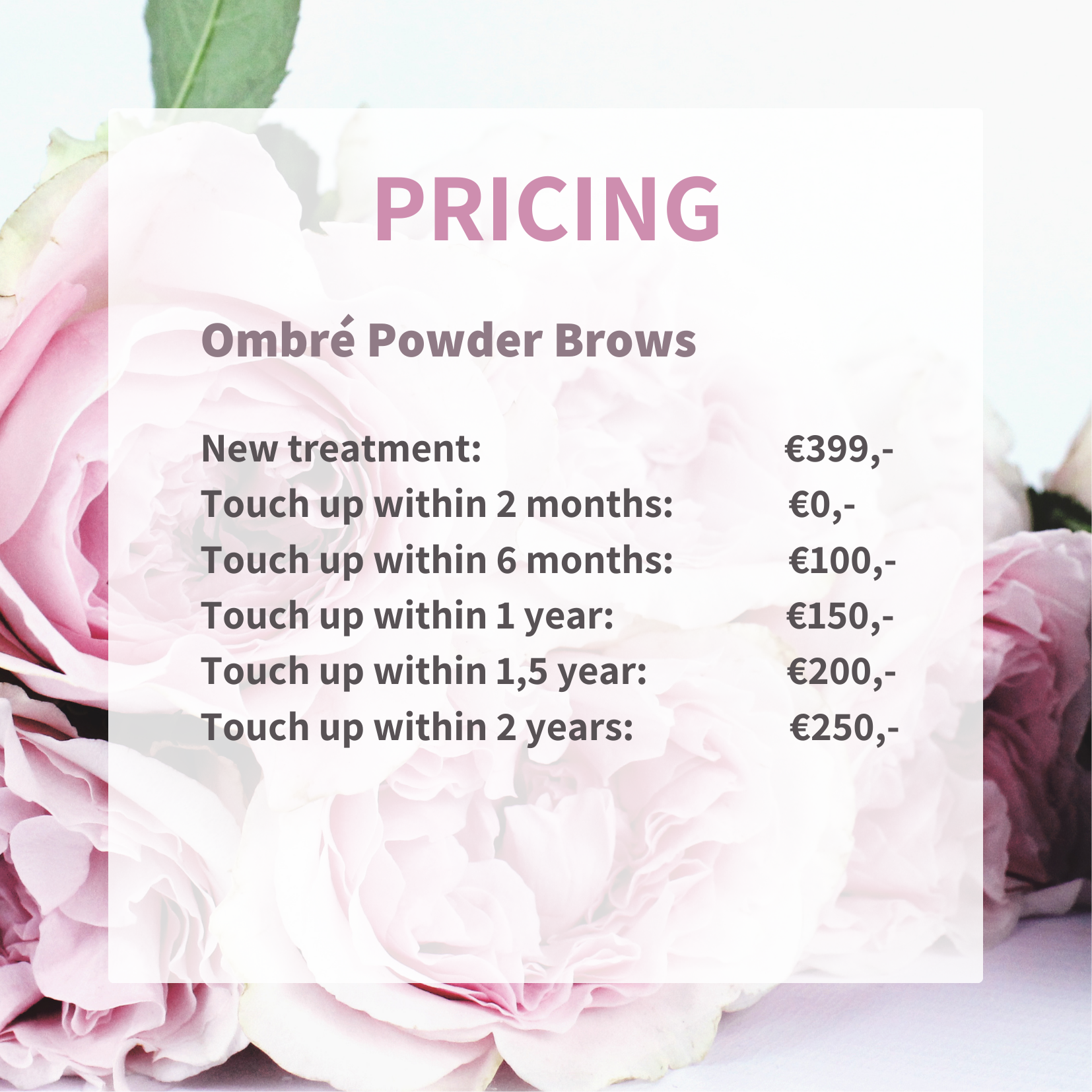 Hygienic working method
To prevent your new SPMU from getting an infection, we use a hygienic working method and we take the following measures
• Before pigmenting, your skin is cleaned, disinfected and shaved with a new disposable razor
• The needles and ink are packaged sterile and are used only for you; the needles are packed individually and the ink is placed into new small ink cups
• Clean tissues and cotton balls are used to clean the skin
• We wear gloves during the treatment and replace them if we touch anything other than the PMU machine, a tissue or your skin

Before the treatment
Please do not use alcohol or drugs for 48 hours before the treatment. Also, don't use blood thinners like aspirin and ibuprofen. Paracetamol may be taken. No tanning bed or excessive sunbathing a week before the treatment. On the day of the treatment, make sure you are well rested and have eaten well. Please come to the appointment with eyebrow makeup on, if you normally draw your eyebrows.

Immediately after the treatment
The color of the eyebrows will look darker, wider and the shade will be warmer than the final result. The eyebrows will become smaller by 10 to 20% and the color will decrease by about 40% and will become 2 to 3 shades cooler.

Aftercare after the treatment
• Do not wet treated skin for 7 days
• Do not exercise for at least 4 days
• Do not touch treated skin, scratch or remove scabs
• Avoid (bubble) baths, swimming pools, saunas and steam baths for 4 weeks
• Do not expose the skin to sunlight or a tanning bed for 4 weeks, if this is unavoidable use a minimum of SPF 30
• Do not use creams with Retinol or acids and peels for 30 days. Chemical peels are only allowed after 6 months
The final result will depend on your skin type, medication use, hormones, aftercare and exposure to sunlight


Touch up within 2 months
With a new treatment it is always necesarry to follow up with a touch up. It needs to take place after a minimum of 6 to a maximum of 8 weeks. This is because after the first treatment the skin needs time to regenerate, only after this we can see how the pigment has actually been adapted into the skin (this differs per skin type). We can also adjust the color a bit darker if the shade is a little too light.

Contraindications
Semi-permanent make-up is not suitable for everyone. For example, we will not perform any treatment in the following cases.
• If you are under the age of 16
• During pregnancy
• If you are undergoing chemotherapy
• On a scar less than a year old
• If you have had a filler treatment less than 4 weeks ago
• When using antibiotics
• On irritated skin such as bumps, dark moles or swelling

We will also not perform treatment on the following conditions;
• Immune disorder (infection and risk of inflammation)
• Chronic skin conditions such as psoriasis and eczema
• Cardiovasculair abnormalities
• Contact allergy
• Hemophilia (clotting problems)
• Diabetes (poor wound healing)

If you have one of these conditions and still want a treatment, or use antibiotics and anticoagulants. Then discuss this in detail with your doctor, without a written statement from a doctor we will not proceed to treatment. If you have diabetes you should also stop taking insulin 24 hours in advance of the treatment.

Allergies
Are you unsure whether you can have an allergic reaction? Then don't hesitate to make an appointment for a patch test. We will then apply a small amount of ink behind your ear with a needle. This is completely free of charge.
Click here to book your appointment online